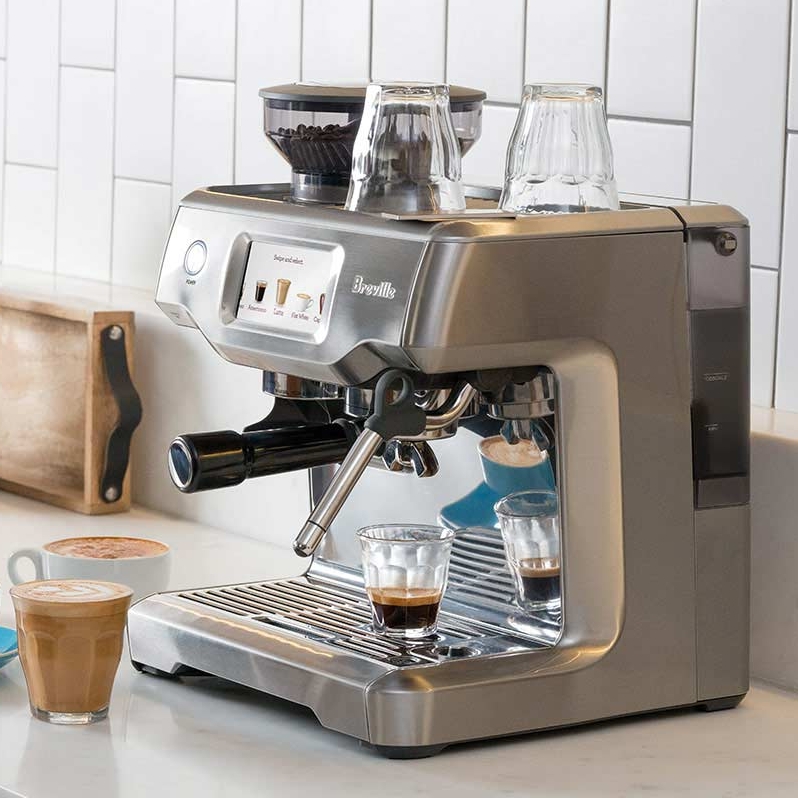 Breville Barista Touch

√ CLICK FOR OUR PRICE GUARANTEE
√ 30-DAY HASSLE FREE RETURNS
√ FREE SHIPPING
I adore Breville, they're like Apple products but for your kitchen, beautifully designed yet all about functionality. And being an Australian company I grew up with them on the kitchen counter. Here's why...
Barista-quality performance with new intuitive touchscreen display with pre-programmed café drinks menu and automatic milk texturing. All within a compact footprint.
A built-in grinder delivers the right amount of ground coffee on demand and with a 3 second heat up time, you go from bean to cup, faster than ever before.
Intuitive Touchscreen Display: Simplifies how to make your favourite café coffee in 3 easy steps - Grind, Brew and Milk. You can easily adjust the coffee strength, milk texture or temperature to suit your taste. Then save it with your own unique name. Create and save up to 8 personalized coffees.
Automatic Microfoam Milk Texturing: Auto steam wand, allows you to adjust the milk temperature and texture to suit your taste. Delivering barista quality micro-foam that enhances the flavor of the coffee and essential for creating latté art .Then it cleans itself for you. Yep.
Precise Espresso Extraction: Digital Temperature Control (PID) delivers water at precisely the right temperature, ensuring optimal espresso extraction.
Faster Heat Up Time: Innovative heating system achieves the optimum extraction temperature in 3 seconds. Ready to make your best coffee without the wait.
Hands Free Operation: Innovative grinding cradle allows any at-home Barista to grind directly into the espresso portafilter.
Integrated Coffee Grinder: With a single touch, the integrated conical burr grinder with dose control, delivers the right amount of coffee, on demand, for maximum flavor. Adjustable grind size and dose.
Breville products are made to withstand virtually anything. The wand and all inserts are dishwasher safe.
All Breville products come with a full 1 Year Warranty. If you have a problem with your product contact us, and we will reach out to Breville who will then pick up and replace the product at their cost.
We take the highest of care with our packaging and shipping, and of course we use only insured and bonded courier services. This means that if any damage occurs to the article while in transit and you are not %100 satisfied with the condition it arrived in, we will pick up the article and immediately ship you a new one at no cost.