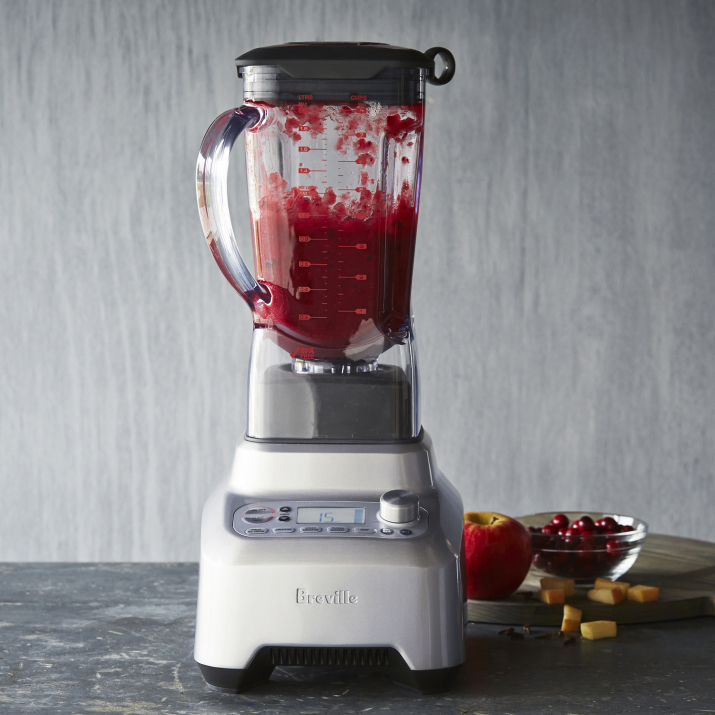 Breville Boss Blender

√ CLICK FOR OUR PRICE GUARANTEE
√ 30-DAY HASSLE FREE RETURNS
√ FREE SHIPPING
I adore Breville products. Being an Australian company I grew up with them on moms kitchen counter as a kid. A liken them to Apple products but for the kitchen. Beautifully designed and yet all about functionality. The Breville Boss is known as the "Vitamix killer". There's no doubt Vitamix is considered the gold standard when it comes to blender, their no frill commercial design and "get it done" appearance get the job done. Until now, the Boss does everything the far more expensive Vitamix's do, has a full range of easy to use SMART presets (of which Vitamix has zero), and it looks lovely on your countertop doing. Check out the videos below here to see just how well the Boss does against Vitamix. Heres a few hard facts;
2 peak-horsepower motor
Five one touch functions: smoothie, green smoothie, frozen dessert, soup and pulse/ice crush make it easy to achieve the perfect texture
Variable speed dial makes it easy to fine-tune texture while blending
High-velocity ProKinetix blade and bowl system pulverizes virtually any combination of ingredients and creates smaller particles for a smoother outcome
Easy-to-operate controls with large, backlit LCD display
Timer function for set-and-forget convenience
Dedicated cleaning function
Tight-fitting lid is vented to allow steam to escape when blending hot soups and features Breville's ring assist for easy opening and closing
BPA-free Tritan jug
Breville products are made to withstand virtually anything. The blending jug, lid etc. are all dishwasher safe.
All Breville products come with a full 1 Year Warranty. If you have a problem with your product contact us, and we will reach out to Breville who will then pick up and replace the product at their cost.
We take the highest of care with our packaging and shipping, and of course we use only insured and bonded courier services. This means that if any damage occurs to the article while in transit and you are not %100 satisfied with the condition it arrived in, we will pick up the article and immediately ship you a new one at no cost.